Build a Solid Action Plan
---
Without a realistic and detailed action plan, a goal is just a dream. GoalsOnTrack can help you brainstorm and organize all the action steps required to make consistent progress on your goal. Follow the simple steps outlined in this article to make sure your goal plan is organized and on track.
Sub goals and tasks
When facing a big or long-term goal, it's always better to think in shorter and simpler terms that we feel more comfortable dealing with. So we will want to break a goal into smaller chunks using sub-goals.
Click the Add Subgoal button on the goal details page to add the first milestone or small chunk of your big goal. A sub-goal is also just a goal itself and the only thing special about it is that it has a parent goal. Click on any sub-goal to go to the details page of that sub-goal. If you want to further break it down, simply add another sub-goal. Currently GOT can support up to 5 levels of sub-goals.
When you have your sub-goals defined, you can further plan how you want to reach those sub-goals. You can list all the logical steps required to reach any of the sub-goals by using the Add Task button. You can add an one-time task or a recurring task on daily, weekly or monthly basis.
The system is designed for a task to take no longer than a few hours. If your task will take a few days, you may want to consider setting it up as a sub-goal instead of a task. Then add smaller tasks to break down that sub-goal.
Vision, purposes, obstacles and resources
Aside from defining sub-goals and tasks for your goal, you may also consider a few important aspects such as your vision, purpose, obstacles and resources about your achieving goal. Spending some time planning out each of these areas will be very valuable. Click the Description tab on the goal details page.
Follow the questions on the form and give your answers in each of these four areas. You can always come back and update this if things change in the future.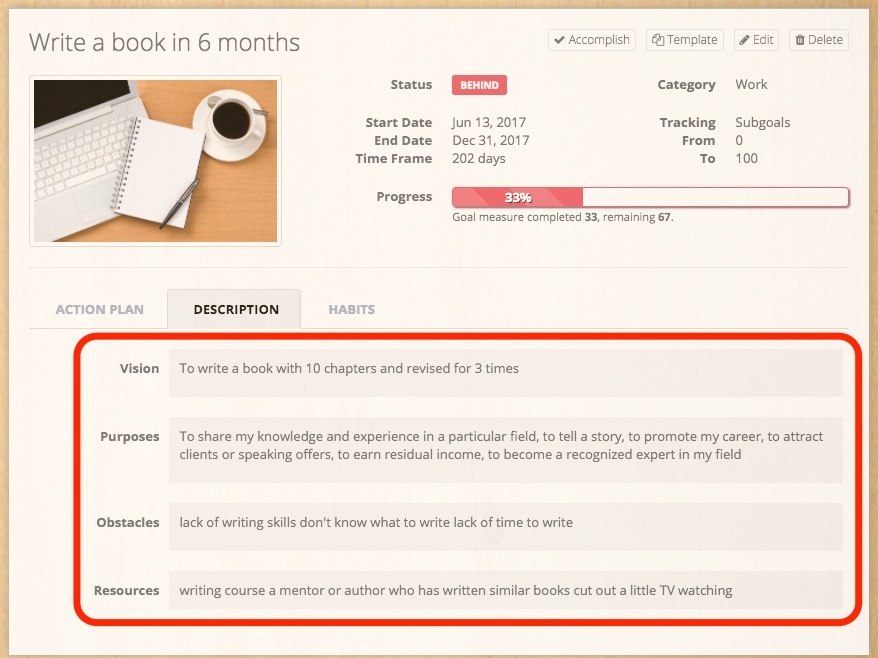 Link habits to support your goal
Building supporting habits for your goals has been proven a very effective way to help you accomplish goals. The difference between a habit and a task for a goal should be that a habit doesn't directly contribute to the goal progress, while a task does. When you have a habit, it helps you become more of the person who is likely to achieve the kind goal you pursue.
Click on the Habits tab to add any habits you want to build for your goal. These habits will also be visible on the Habits page. You can also edit habits to change their goal field to link them to a particular goal.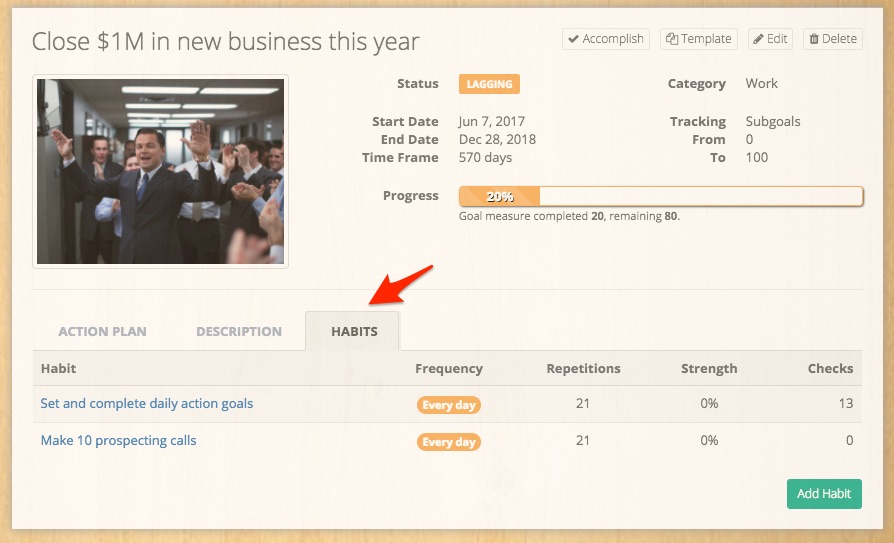 What's Next?
A well-defined action plan should include a clear and logical sub-goal and task structure, detailed notes on things like vision, purposes and resources, and also any helpful habits that may be helpful in achieving success in reaching the goal. Next you may want to check out how to effectively track your progress toward your goal.