GoalsOnTrack for Teams
The new GoalsOnTrack team version is finally here. It's one of the long requested features. We are happy that after months of development it's fully launched. Now you can use GoalsOnTrack to track and manage your team goals, share progress with your team members, and collaborate, communicate and achieve your goals as a team. Here is a quick overview of the main features in the team version.
Team Activities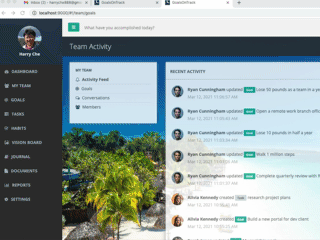 When you use GoalsOnTrack as a team member, all team activities such as goal progress update, task update, and task completion are all logged in real time and visible to your team. Everyone can see instantly what everyone else is doing with their goals. The activity feed is also the default page when you click the "My Team" link from the main navigation menu on the left. You can see activities by each team member. So each member's team activity log can also be used as a record of accomplishments.
Team Goals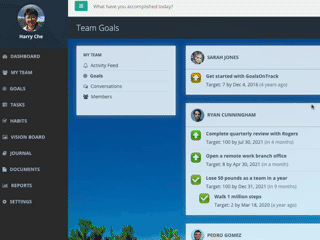 As a team, everyone can share their goals with the team, and see what everyone else is working on and how much progress is being made. Each team member's goals and subgoals along with their progress and goal status are displayed on one page. Team members can selectively share their goals to be visible to their team, or keep them private.  The whole team can see only publicly shared goals. With instant progress update, your team will always be on track with everyone's progress.
Team Conversations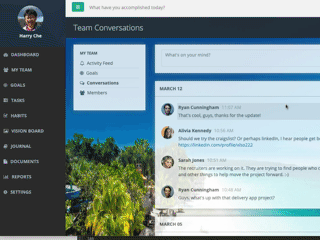 Collaboration and communication are often the key factors in team success. The Conversations page offers an easy to use tool to support team collaboration and communication. Team members can post messages or start conversations in a centralized area, where the team members can communicate important messages, coach each other, and even celebrate as a team. Team admin can edit and remove any messages posted by team members.
Personal & Team Versions
The team version includes everything that's already available in the personal version. If you have used the personal version before, you will still have access to all the features you see in personal version, plus the new features available to only team version.
The team version is currently being offered in a monthly based billing plan, starting at $80 per month per 10 user team. If you want to experience the team verison, but don't need full 10 user accounts, we can still sign you up with a special discount.
The team version definitely has a lot of room to grow and we welcome your feedback and any suggestions on how we may improve. As always, thanks for your continued support and interest in this product. Hope you will make most of it to better achieve your goals.
____
Harry Che, Founder & CEO at GoalsOnTrack.com
Share this page to your soical networks by clicking the buttons above.