New Feature Launched – Goal Sharing
We are excited to announce that the new goal sharing feature has finally arrived. Now you are able to share your goals with anyone you like and let them keep you on track and cheer you on to reach your goals. But first you may wonder why you would want to share your goals. A few very good reasons:
Why Share Goals
Accountability – Much research and studies have shown that sharing your goal and having someone to hold you accountable can greatly increase your chance of success. I

f you bring other people into your goal journey, your overall involvement in that goal will be considerably higher.

Clarity – Sharing your goals with someone else will force you to think clearly about what you want to achieve. Not only the goal itself, you will also need to think clearly about what to do to reach your goal, as all your actions and plans will be publicly viewed by others.
Feedback – The worst thing you want to do is to keep running down a wrong path for a goal you want to achieve. Sharing your goals with people who can help and guide you will save you a lot of wasted time and effort.
How to Do it
With the goal sharing features of GoalsOnTrack, sharing your goals is as easy as a few mouse clicks. Make sure you already setup a few goals that you are currently working on. Click the main "Goals" tab. At the top of the Goals page, click the "Share" button to go to the Goal Share page.

Next select which goal(s) you wish to share. By default none of them is shared. Then move down and click "Save & Share" button. Then your goals are shared at a public URL that people can access directly.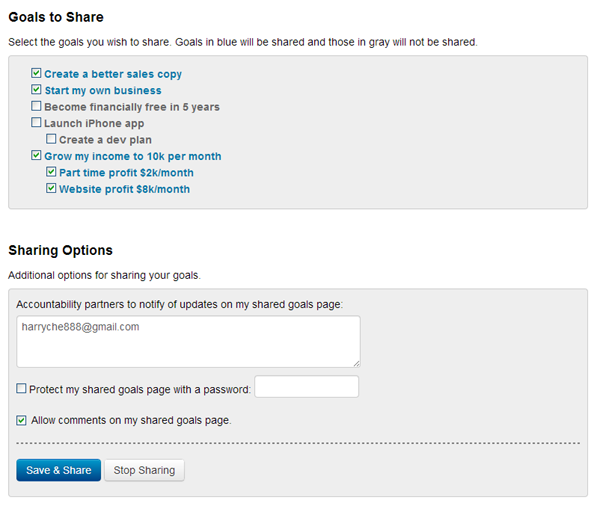 Accountability Partner or Coach
If you don't want everyone to view your shared goals, you may choose to share them in "protected" mode, by assigning a password. Then you can share the password with only people you do want to see your goals.
If there is an accountability partner or coach you are working with, you can also add their email addresses to the Share Options notification list. Then whenever you make any changes/progress to your shared goals, people on that list will get notified.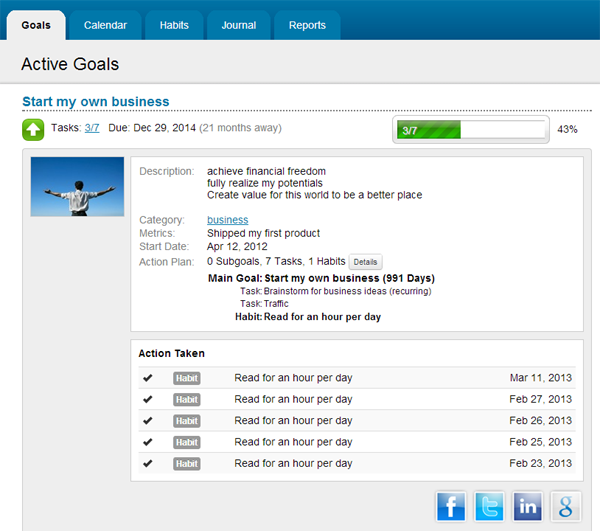 You may turn off the goal sharing any time. Simply go to the Goal Share page, and click "Stop Sharing" button, then none of your goals will be shared anymore.
We hope you like this feature and make good use of it. As always, please let us know if you experience any problems, or find any bugs, and also any feedback on how we can improve.
Share this page to your soical networks by clicking the buttons above.